After the scorching heat of summer and the agonies of having been cooped up inside the homes to escape the unrelenting hot spell, who does not welcome with open arms the first showers of monsoon! The first showers do bring forth all the promises of wonderful days ahead! Ah… but then don't we get a wee bit carried away here! Yes, there are many of us who feel that the best way to welcome the monsoon is to literally do so with open arms. No doubt the kids are going to go full throttle in welcoming rains thus – but there is definitely a need be cautious here.
While we adults can, and most of the times do, manage to ward of monsoon related illnesses, the same cannot be said for our children. Come the rains, one cannot escape the dreaded flu that does it rounds and can be at times merciless. Here is where it is imperative that all parents should be wise to such possible infections and do their bit to prevent it especially so in the case of infants.
Tackling the Flu – Tips to Prevent It
Flu
is caused by a virus and it can spread very easily. A sneeze, a cough, sharing objects like towels, or direct contact from an infected person can spread it. While some, especially adults who have better resistance, can fight the virus before the infection, the same cannot be said when it comes to children, toddlers or infants. This is why it is important to prevent it. Ensure that you keep a couple of things in mind this monsoon :
When you or your children are handling or playing with infants make sure that you do so with clean hands. This is more important when you are feeding the baby or changing diapers.
For the older children encourage the use of hand sanitizers.These help fight germs and using sanitizers is also a healthy option. We, of course do encourage that the kids also wash their hands regularly.
Make sure that the children's and the infants nails are cut regularly preferably once a week. It would be wise to use nail clippers that are specifically designed for infants and children.
Mosquitoes are definitely the worse menace during monsoon. Don't allow for water to stagnate in and around your homes. Prevent mosquito bites by using mosquito sprays that are specifically made keeping in mind the delicate skins of children. If you have an infant use

baby mosquito nets

.
For those of you handling a baby, it is certainly important that you too maintain personal hygiene so that you are not carriers of any illnesses.
While it could be okay for adults to wash the crockery, cutlery and other utensils they use in normal water, the same should not hold good for babies and infants. They do not yet have the immunity that adults possess. Any
Water is always suspect during monsoon. Cleaning and sterilization of all objects the baby uses, be it a toy or a feeding bottle, is very important. Never compromise on this.
Similarly the bedding ensemble of babies should not only be dry at all times but also thoroughly clean. Do not use strong detergents to wash baby clothes or their bedding accessories. The strong chemicals that remove stubborn dirt in normal household detergents could cause allergic reactions or rashes in babies. Choose

mild soaps or detergents

for baby products.
Use umbrellas and hats for your kids if they are bound to stay out for a long time. For your toddler who is off to a playgroup, have a raincoat packed in their bag, so that they are not unawares in the rain.
Treating the Flu
Sometimes even the best preventive measures do not help and the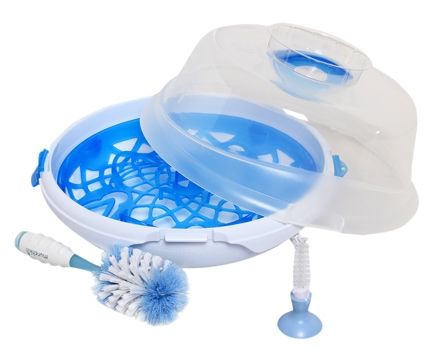 children, toddlers or infants do catch the virus. Here are some home remedies that can help treating the flu.
Flu causes dehydration. Hence fluid retention is extremely important. Make sure that the child is constantly hydrated. Boil the water and cool it to room temperature before making the child drink it.
Tender coconut water is the best natural home remedy for fluid retention. Only make sure that the tender coconut water is taken immediately after the breaking/tearing the coconut. Storing coconut water even for a couple of hours will lead to its fermentation which could cause more harm than good.
Nasal congestion and accumulation of phlegm in the chest are also symptoms of flu. Use a

humidifier

to abate this.
A good rest and a good sleep can do wonders and provide great relief.
While solid intake is necessary, don't go overboard. The food should be easily digestible so that stomach and the intestines are not overly taxed. Homemade vegetable soup, chicken stock, lentil stock, light porridge, vegetable, meat, fish or cereal grain broth are ideal food intake for children during this stage.
What your child needs from you is warmth, tenderness and a lot of patience. Never panic. Also remember this – never go in for over the counter medication.
You may have popped a pill for a cold, cough or flu, but your child is still tender. Consult a doctor and administer only prescribed medication.